Rob Rang
NFL Draft Analyst
Finally, a clear, quantitative answer to the "simple" question — which college football team was the most talented of all time? 
With back-to-back national championships — including this latest title after setting an NFL record with 15 players selected in the 2022 draft alone — Georgia is clearly the current "top Dawg" in college football.
But where does this recent Bulldog squad rank all-time? And if it isn't the most gifted, which team is?
Before listing the contenders, let's establish the ground rules used in determining the rankings.
First, while team wins clearly are evidence of raw talent, it doesn't take much research to learn that Ohio State has the highest winning percentage (73.3%) of the so-called Power 5 teams, or that Alabama, with 16 national titles, has the most championships.
Second, while recruiting rankings were considered for this piece, more emphasis was placed on the number of NFL draft picks, how many of those were first-round selections and how those players fared once they reached the league (i.e. became All-Pros).
Again, let's dig deeper than simply acknowledging that Notre Dame leads the country with the most NFL draft picks all-time (525) or that Oklahoma has had more No. 1 overall picks than any other program. Ironically, if former Sooner Caleb Williams goes first next spring, as many (including myself) are forecasting, USC would tie the Sooners with six players earning this honor.
RJ Young's preseason Top 25 revealed
Perhaps most importantly, this is not a one-year snapshot. Every college football team is composed of freshmen, sophomores, juniors and seniors, after all. Whether they played critical roles during the season isn't as important as the fact they were on the roster — those future first-round picks helped prepare their teammates on the practice field, after all.
With the parameters established, the five most talented teams are ranked below in descending order. 
5. 2006 OKLAHOMA SOONERS
Star power has its perks, propelling the Sooners ahead on this list over other teams that produced more wins or NFL draft picks.
Bob Stoops led the Sooners to a national championship in 2000 (and a return to the title game in 2008) but this 2006 squad that finished 11-3 and ranked 11th in the polls is the one that makes our list of the most gifted rosters in college football history. One need only take a glance at the list of future Hall of Famers on that team to justify their placement here — a list that includes some of this generation's greatest players to suit up at their respective positions.
We'll start off with Adrian Peterson, who was selected No. 7 overall later that spring by the Minnesota Vikings, retiring 15 years later with the fifth-most rushing yards (14,918) and fourth-most rushing touchdowns (120) in NFL history.
It was the freshman class brewing in Norman behind Peterson, however, that really earns the Sooners their placement here. Fellow future Hall of Famers Gerald McCoy and Trent Williams joined quarterback Sam Bradford as three of the first four selections of the 2010 NFL draft — a level of draft-day dominance not seen before or since.
Their collective star power overshadows some of the other quality players that made Oklahoma a perennial title contender, a list that also includes two-time Pro Bowl tight Jermaine Gresham, steady middle linebacker Curtis Lofton and right tackle Phil Loadholt.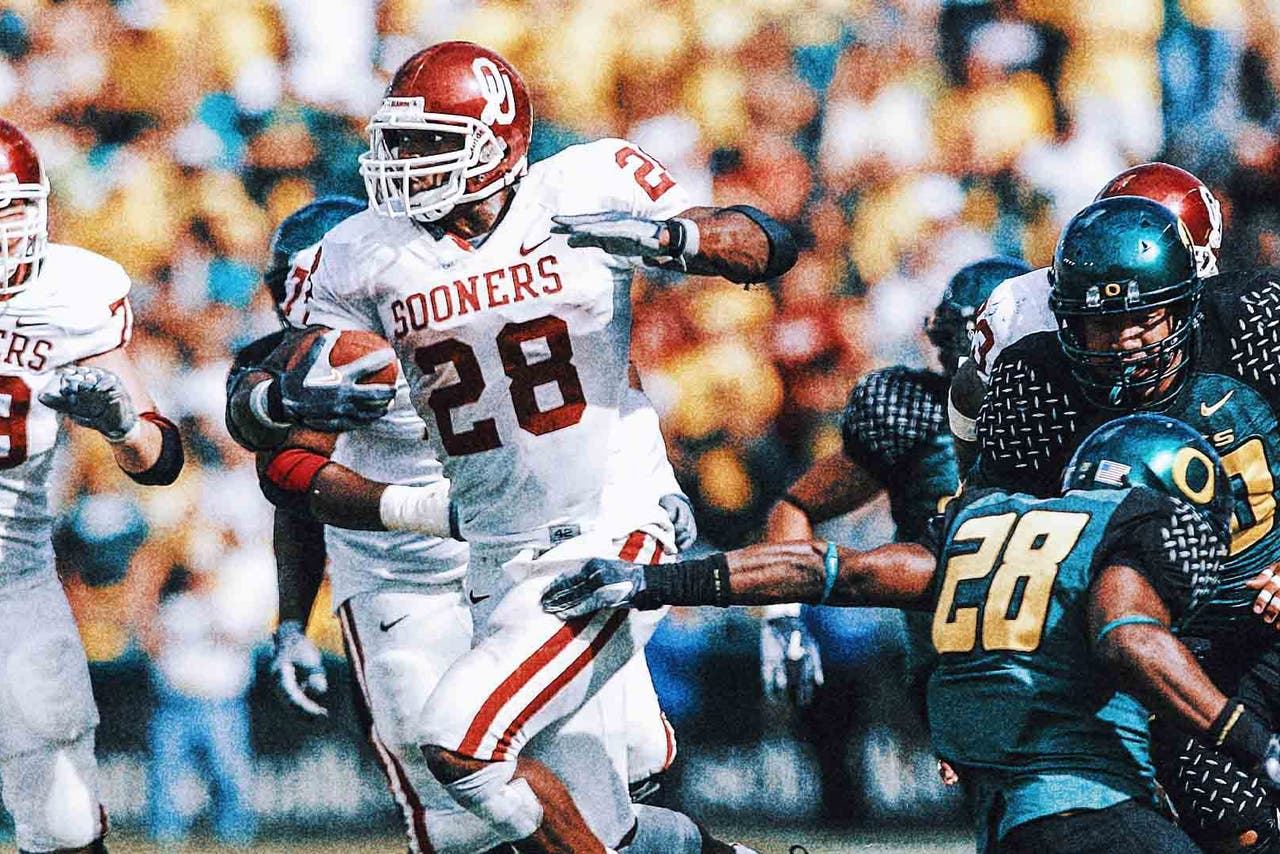 Adrian Peterson rushed for more than 1,000 yards in just seven games in 2006. (Photo by Jonathan Ferrey/Getty Images)
Recruiting class ranking (Average from 2003-2006 according to 247Sports): 9
Won-Loss record: 11-3
National championship?: No
Total NFL draft picks (2007-2010): 19
First-round draft picks: 5
No. 1 overall picks: Sam Bradford (2010)
NFL All-Pros (2007-present): Adrian Peterson (2007-10, 2012-13, 2015), Gerald McCoy (2013, 2014, 2016), Trent Williams (2015, 2021-2022)
4. 2015 OHIO STATE BUCKEYES
If sheer numbers are your preference, the Buckeyes boast an NFL pipeline as powerful and consistent as any in college football.
In a testament to both Urban Meyer and current head coach Ryan Day, at least one Buckeye has heard his name called among the first 15 selections of the NFL draft eight consecutive years — a mark that no other team in the country can claim.
At the risk of offending the dozen or so Ohio State classes considered for this article, the 2015 squad was the most talented — even if only one of the Bosa brothers (Joey) was included (Nick didn't join the team until 2016). While the Buckeyes lose out on one superstar by our choice of the 2015 team, they gain another in quarterback Joe Burrow, who won the Heisman Trophy and a national title at LSU in 2020, but originally signed with Ohio State.
The turnstile of talent in Columbus was there at virtually every position, with the 2015 team having three quarterbacks ultimately selected by NFL teams (the late Dwayne Haskins and Cardale Jones joining Burrow), though longtime starter JT Barrett was not. 
Future NFL stars Ezekiel Elliott, Michael Thomas and Terry McLaurin were all fighting for touches — which was difficult to get in practice considering the speed and playmaking ability of a defense that featured Bosa, Marshon Lattimore and Denzel Ward — each of whom has since been voted to the Pro Bowl. Though not all of them lived up to expectations once in the NFL, an astounding total of seven defensive backs, six wide receivers, six offensive linemen, and four linebackers from the 2015 roster alone were drafted.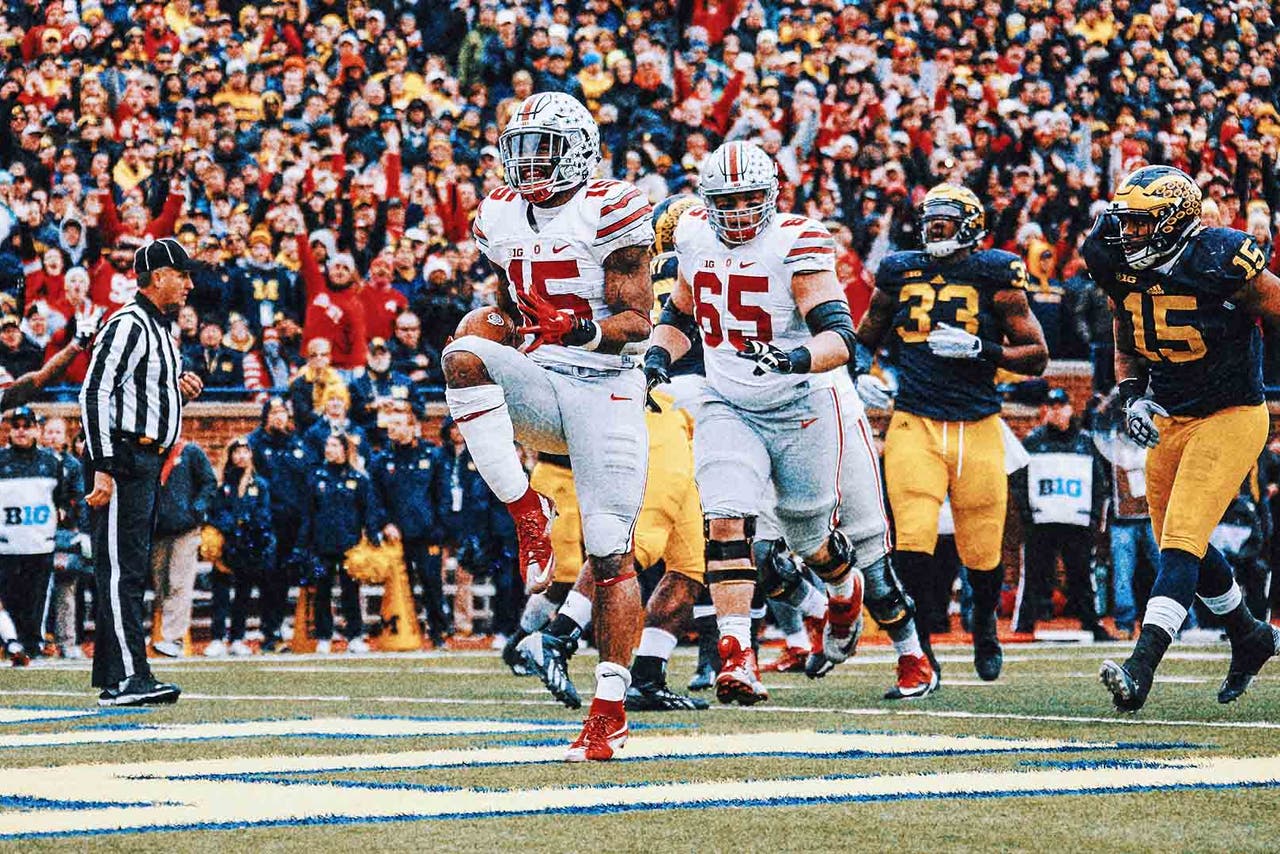 Ezekiel Elliott rushed for 1,821 yards and 23 touchdowns in 2015, his second straight 1,800-yard season. (Photo by Gregory Shamus/Getty Images)
Recruiting class ranking (Average from 2013-2016): 4
Won-Loss record: 12-1
National championship?: No
Total NFL draft picks (2016-2019): 35
First-round draft picks: 12
No. 1 overall picks: None
NFL All-Pros (2016-present): Ezekiel Elliott (2016, 2018), Michael Thomas (2018-2019) 
3. 2021 GEORGIA BULLDOGS
It is easy to veer into hyperbole when describing the collection of talent Kirby Smart and his staff collected in Athens over the past few years. 
The 2021 defense was truly remarkable, ranking as the most gifted unit I've evaluated in 20-plus years in the business. This team had five first-round picks in the 2022 draft alone, including, of course, Travon Walker at No. 1 overall. It was also seemingly as stout along the line of scrimmage as some NFL clubs, with nine players (five on defense, four on offense) drafted over the past two years. Georgia players from virtually every position, in fact, were drafted into the NFL over that time, including three running backs, quarterback Stetson Bennett and even punter Jake Camarda. 
And speaking of offense, when evaluating the entire collection of prospects that were part of Georgia's championship foundation, one must include another quarterback, Justin Fields, who was a key recruit here in 2018 prior to his transfer to Ohio State.
Further, players I expect to be standouts in the NFL — like wide receiver George Pickens and tight end Darnell Washington — lacked eye-popping statistics at Georgia but were key contributors, nonetheless. Fellow pass-catcher Brock Bowers, still on Georgia's roster, is the best tight end I've ever seen at the college level. And these factors are all why it is important to acknowledge this Bulldogs squad, as there are future NFL standouts still on the Georgia roster. And, with a maximum of just one year in the NFL, these Bulldogs have not yet had the opportunity to earn All-Pro votes that others have.
In a few years, the 2021 Bulldogs may boast one or more All-Pros, launching this group even further up the list. Who knows, by that time, the undefeated 2022 squad that also won a championship may prove to have enough stars that it, too, cracks this list.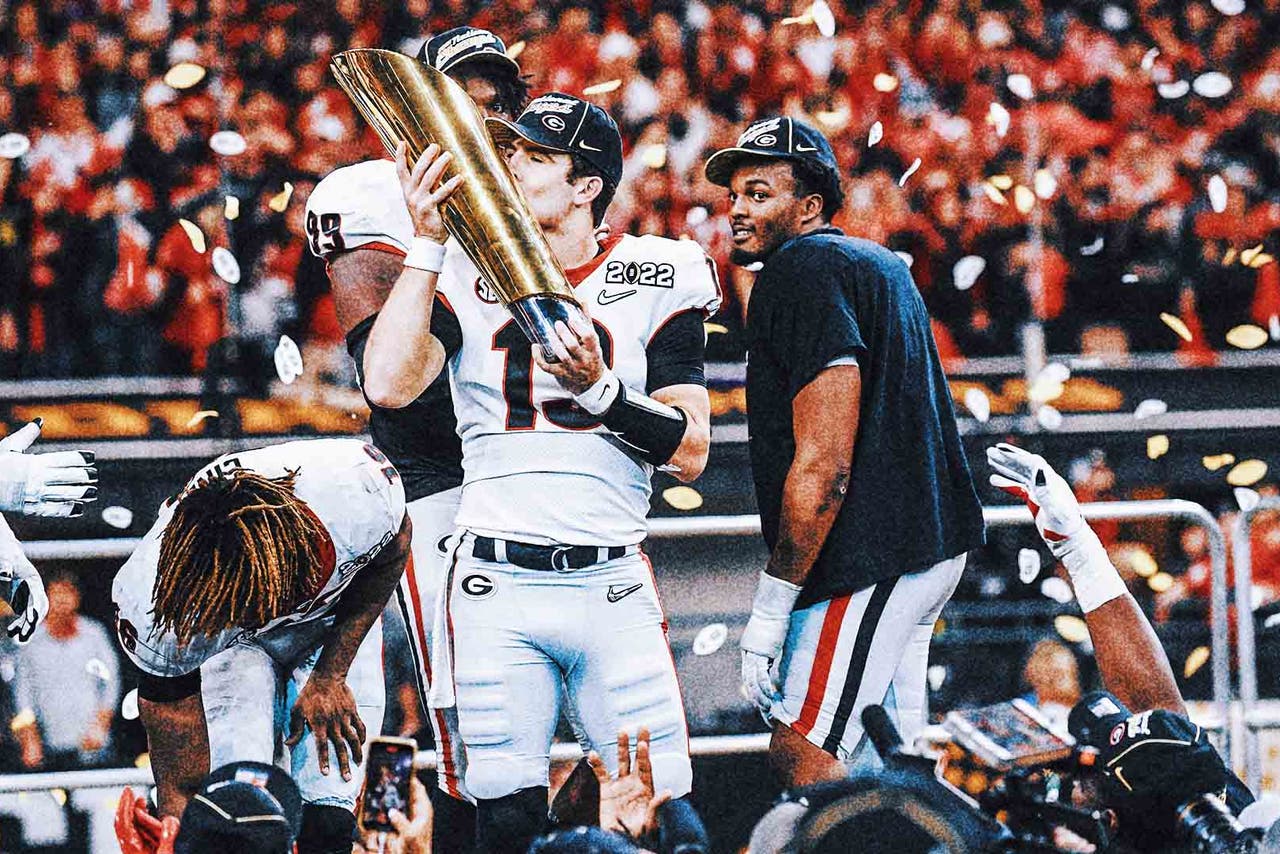 Stetson Bennett is one of 25 players on the 2021 Georgia roster to be drafted — so far. (Photo by Jeffrey Vest/Icon Sportswire via Getty Images)
Recruiting class ranking (Average from 2018-2021): 2
Won-Loss record: 14-1
National championship?: Yes
Total NFL draft picks (2022-2023): 25
First-round draft picks: 8
No. 1 overall picks: Travon Walker (2022) 
NFL All-Pros (2019-present): None … yet
2. 1986 MIAMI HURRICANES
While today's athletes might be better prepared for the NFL than ever before, they played pretty good football in prior generations too — including at "The U," a program that dominated the 1980s, winning three national titles with three different head coaches.
What longtime college football fans might find interesting is that we're listing the 1986 team that finished second to Penn State in the polls (due to a loss in the Orange Bowl), rather than the 1983, 1987 or 1989 squads that won it all. Give head coach Jimmy Johnson credit for guiding the 'Canes to a title a year after losing three players to the Top 10 of the 1987 NFL draft, namely quarterback Vinny Testaverde (No. 1 overall), running back Alonzo Highsmith, and the late, great defensive tackle Jerome Brown.
Johnson, of course, would later go on to become a Hall of Fame head coach and a two-time Super Bowl champion with the Dallas Cowboys. Early in his time at Dallas, he was reunited with some of the best players he recruited to Miami, including future Hall of Fame wide receiver Michael Irvin and quarterback Steve Walsh, as well as defensive tackle Russell Maryland — the No. 1 overall pick of the 1991 draft — and offensive guard Mike Sullivan. They were each true freshmen on this 1986 squad — as was Luis Cristobal, whose brother, Mario, is now Miami's head coach, and a legacy of "The U," as well.
The 1986 Hurricanes were stout along the line of scrimmage, but it was the skill position talent that separated them from most others in college football. Six running backs on the 1986 squad would eventually be drafted over the next three years, led by Highsmith and fellow first-round pick Cleveland Gary. The talent was just as rich at receiver, with future NFL standouts Brian Blades and Brett Perriman selected in the second round of the 1988 draft, a round later than Irvin and star defensive back Bennie Blades, who went third overall that year as Brian's younger, bigger brother.    
The No. 3 overall pick of the NFL draft was used on players from Miami in 1987 (Highsmith), 1988 (Bennie Blades) and 1990 (the late Hall of Famer Cortez Kennedy) — though the Seahawks legend was notably not part of Johnson's 1986 squad, joining the team as a junior college transfer in 1988.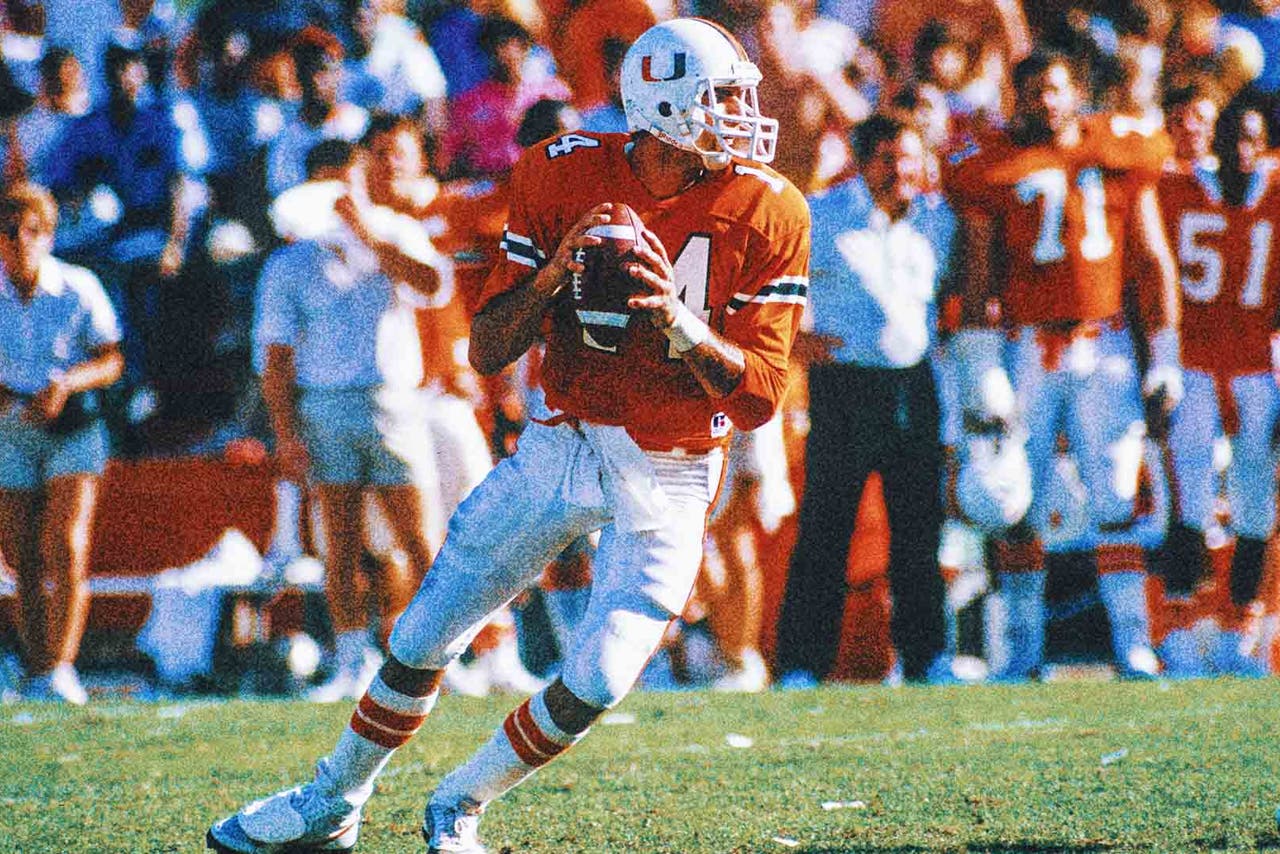 Quarterback Vinny Testaverde was one of two players on the 1986 Hurricanes who would be chosen No. 1 overall in the NFL Draft, with Russell Maryland (1991) being the other. (Photo by Focus on Sport/Getty Images)
Recruiting class ranking (Average from 1983-1986): n/a
Won-Loss record: 11-1
National championship?: No
Total NFL draft picks (1987-1990): 37
First–round draft picks: 8
No. 1 overall picks: Vinny Testaverde (1987), Russell Maryland (1991) 
NFL All-Pros (1987-present): Bennie Blades (1988, 1991-1992), Brian Blades (1989), Jerome Brown (1990-1991), Michael Irvin (1991)
1. 2017 ALABAMA CRIMSON TIDE
There are few guarantees in life, but the University of Alabama producing first-round picks since Nick Saban took over in 2007 has become one of them. It took the man two years to re-establish Alabama as a perennial power, and he's had at least one player selected in the first round every year since 2009 — a staggering 14-year run. 
What is perhaps most remarkable about that fact is that until Bryce Young in this past draft, no player in Alabama's storied history had ever been selected No. 1 overall.
Frankly, the talent has been so deep with the Crimson Tide that one could make a solid argument that multiple rosters could make our list. If it was stretched to include the Top 10 most talented classes of all time, Alabama certainly would be represented again.
But whether Saban would admit it or not, the most gifted roster he ever assembled in Tuscaloosa was in 2017. 
Let's start at quarterback, where the depth chart started with Jalen Hurts and also featured future first-round picks Tua Tagovailoa and Mac Jones. Tagovailoa, you might recall, took over in the second half of the 2017 BCS title game to beat Georgia in overtime.
At running back, this team had Josh Jacobs, Najee Harris, Damien Harris and Bo Scarbrough — all future NFL draft picks who were eager to take over for Derrick Henry, who had been drafted that spring. Jacobs, of course, led the NFL with 1,653 rushing yards this past season. 
Want to switch to wide receiver? How about a four-receiver set of Calvin Ridley, Jerry Jeudy, DeVonta Smith and Henry Ruggs III? (Jaylen Waddle didn't join the Tide until 2018.)
In a case of iron sharpening iron, the Alabama passing attack had to find holes in a secondary that boasted All-Americans Minkah Fitzpatrick and Trevon Diggs, among four other future NFL draft picks. 
Of course, Alabama is usually pretty good along the line of scrimmage, as well, where five future first-round picks suited up for the Tide, including future NFL starting offensive tackles Jonah Wiliams, Jedrick Wills and Alex Leatherwood, as well as stud defenders Da'Ron Payne and Quinnen Williams. 
And just to prove a point, yes, their specialists were incredible too, with punter JK Scott and even long-snapper Thomas Fletcher being drafted.  
With talent like that, it is no wonder that Saban has won an unprecedented seven national championships, along the way compiling the most talented roster college football has ever seen.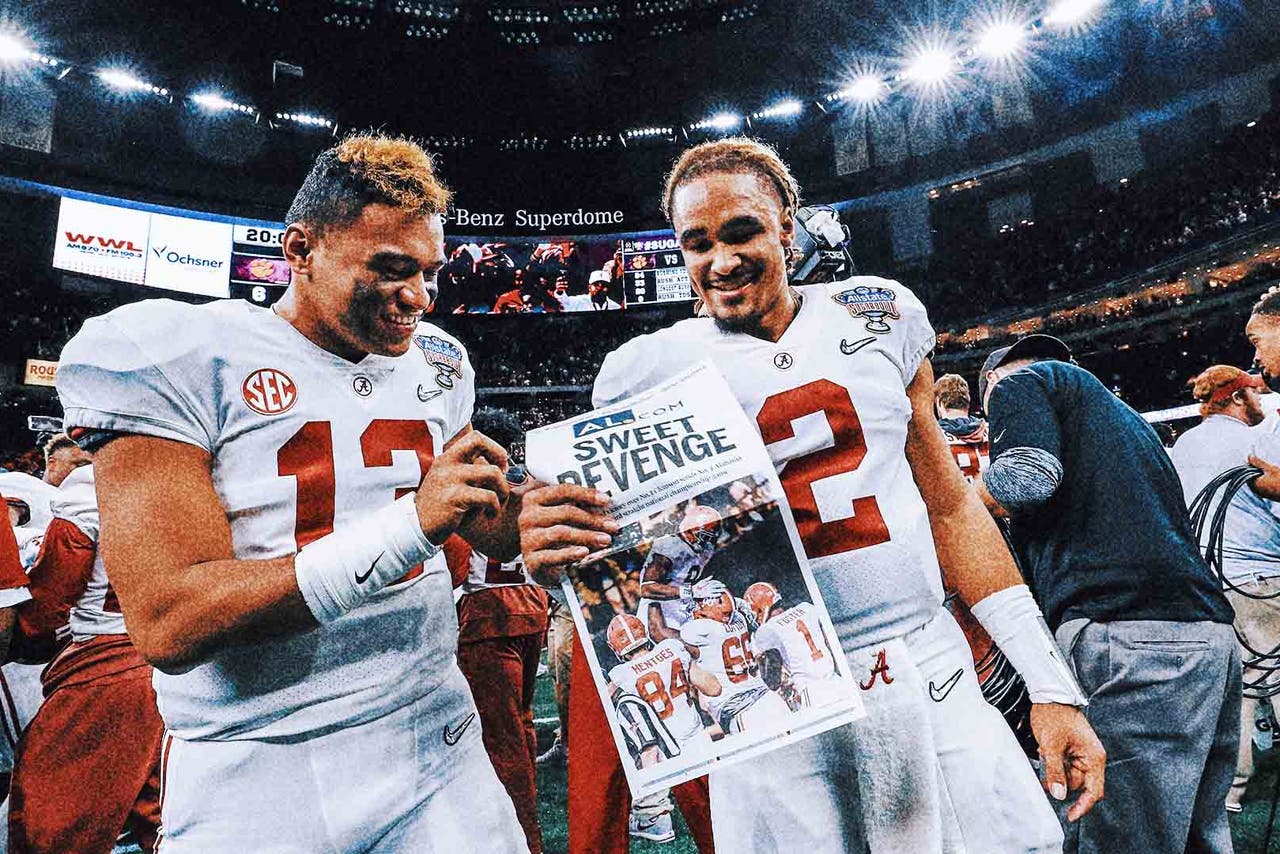 Alabama won the national championship in the 2017 season behind two future NFL quarterbacks, Tua Tagovailoa (left) and Jalen Hurts. (Photo by Ronald Martinez/Getty Images)
Recruiting Class Ranking (Average from 2014-2017): 1
Won-Loss record: 13-1
National championship?: Yes
Total NFL draft picks (2018-21): 41
First-round draft picks: 17
No. 1 overall picks: None
NFL All-Pros (2018-present): Minkah Fitzpatrick (2019, 2020, 2022), Calvin Ridley (2020), Trevon Diggs (2021), Jalen Hurts (2022), Josh Jacobs (2022), Quinnen Williams (2022)
Rob Rang is an NFL Draft analyst for FOX Sports. He has been covering the NFL Draft for more than 20 years, with work at FOX, Sports Illustrated, CBSSports.com, USA Today, Yahoo, NFL.com and NFLDraftScout.com, among others. He also works as a scout with the BC Lions of the Canadian Football League. Follow him on Twitter @RobRang.
---
COLLEGE FOOTBALL trending
---
Get more from College Football Follow your favorites to get information about games, news and more
---