In 2013, a still-teenage Jurickson Profar was MLB's top prospect and one of the most coveted players in baseball. Fast-forward a decade, and despite spending several weeks as the top free agent available, Profar can't seem to find a team that wants him. 
It's no secret that player development in baseball isn't linear, but Profar's road to get to this point has been winding to say the least. 
Profar's profile as a prospect was rooted less in any one overwhelming strength as much as an apparent lack of any weakness whatsoever. As one of several outlets to crown Profar as the consensus best prospect in the game, Baseball America described the phenom aptly: "He may not have the most power, the most speed or the strongest arm on the field, but typically he's the best player out there." 
Even before he entered pro ball, Profar was already a familiar name in the baseball world, having helped lead Curaçao to back-to-back Little League World Series championship games in 2004 and 2005. He was known then for his ability on the mound as much as his skills as a position player, but the Rangers gave him a $1.55M signing bonus in 2009 and told him to focus on shortstop and hitting. He more than held his own as a 17-year-old in rookie ball, but it was a full-season debut with Low-A Hickory in 2011 during which he won South Atlantic League MVP as an 18-year-old that rocketed Profar up the prospect ranks. 
While Profar's prospect path feels like ancient history by now, we are just a few years removed from another precocious switch-hitting shortstop having a similarly firm grip on the top spot on nearly every prospect list: Wander Franco.
Franco posted much gaudier offensive stats as he climbed the minor-league ladder, as his hitting acumen stood out as his headlining ability since he was Little League age more than any of Profar's individual tools. Franco has also always been more stout and powerfully built than the wiry Profar, who arrived in pro ball and then eventually the big leagues simply looking like a taller version of the kid who took Williamsport by storm. Still, each raced to the big leagues with similar ease and had a knack for making the game look far simpler than it should be for players their age. Even with a canceled 2020 season, Franco made his big league debut after just 215 minor-league games, becoming the first player born in 2001 to reach MLB. In his debut, he homered and doubled. 
There was no need to wait — Franco was a star on arrival. The Rays responded accordingly, inking him to an 11-year, $182M extension after just 70 games.
Nine years earlier, Profar had burst on the scene in similar fashion, becoming the first player born in 1993 to reach MLB. He also registered a homer and a double in his MLB debut, with the dinger coming in his very first plate appearance. 
That one September swing in Cleveland was just another eye-popping example of Profar's prodigious ability to make one of the world's hardest games look so easy. Like Franco, an ascent to big-league stardom appeared imminent. 
Or so we thought. 
With Elvis Andrus and Ian Kinsler entrenched in the Rangers' middle infield during Profar's ascent through the Minors — not to mention future Hall of Famer Adrian Beltre at the hot corner — it wasn't obvious where exactly Profar would fit into Texas' plans despite his prospect pedigree. A spot appeared to open up when Kinsler was traded to Detroit for Prince Fielder after the 2013 season. Unfortunately, Profar began to experience serious pain related to his shoulder in 2014 Spring Training. He had been playing with a partially torn labrum since his first year in pro ball in 2010 but now, just when the second base job appeared his to lose, he was unable to play. He missed all of 2014 just trying to rehabilitate the shoulder before succumbing to surgery the following February which knocked out another entire season in 2015. 
Two years meant for finding his footing in the big leagues were spent on the IL instead. By the time he returned in 2016, his path to playing time was far less obvious, his prolific prospect past all but meaningless. With Andrus still around, shortstop remained out of the question, thus beginning Profar's further expansion of his defensive horizons. 
This was all the more necessary considering his slow adjustment to big-league pitching — the bat simply wasn't delivering like many had projected it would. In 112 games with Texas across 2016 and 2017, Profar hit .227/.316/.315 and bounced between AAA and MLB.
Profar finally got his shot at shortstop when Andrus hit the IL with a broken arm after being hit by a pitch in April. At long last — despite being still just 25 — Profar began to show glimmers of his once-lauded talent at the highest level. He moved back off short once Andrus returned but finished the year with 20 home runs and 107 OPS+ in 146 games.
Many hoped that would be a springboard to stardom, but really it just ended up being a preview for what we have come to know him as today — hardly a star, but a perfectly solid and considerably valuable complementary player on a contending team. It was this role he played brilliantly well for San Diego since arriving via trade in December 2019, culminating in a career-high in hits and games played in 2022 just as the Padres were pushing for a World Series.
It would seem that such a season would put Profar in a strong position entering the open market – that's why he opted out of the roughly $8M player option he had for 2023 in the first place. Instead, Profar has gotten lost in the shuffle of much higher-profile free agents, many of whom happen to also be represented by his agent Scott Boras. Now with Spring Training around the corner, Profar is still unsigned, with few obvious teams left willing to hand out a multi-year deal. 
At the same time, it's not entirely shocking that Profar is currently the best player left seatless in baseball's annual winter game of roster musical chairs. In free agency, stars sell, and Profar appears far removed from that kind of upside and thus may be harder to entice a front office to commit to long-term.
But this is still an above-average player we're talking about, and one who deserves a spot on a good team. He could still fit on the Padres, but certainly less so after the Matt Carpenter and Adam Engel signings. The Yankees and Dodgers both could use a corner outfielder, but neither seems especially eager to jump back into the free agent waters. Oakland, Kansas City and Cincinnati sure could use outfield help as well, but they'd likely rather just roll with younger players. 
Oddly enough, the most sensible landing spot for Profar at this stage might just be where it all began. The Rangers have spent a boatload to overhaul their rotation this winter but the depth on offense remains suspect at best. There's also a notable hole in left field, where some combination of Josh Smith, Brad Miller and Bubba Thompson are currently projected to get the bulk of the reps. It's not as sexy as bringing in the likes of Corey Seager or Jacob deGrom but it's the exact kind of floor-raising move that they should be pursuing if they have any hope of keeping up with Houston, let alone Seattle and Anaheim in the AL West. It may not be the level of homecoming that Andrew McCutchen returning to Pittsburgh was, but it still makes a good bit of sense.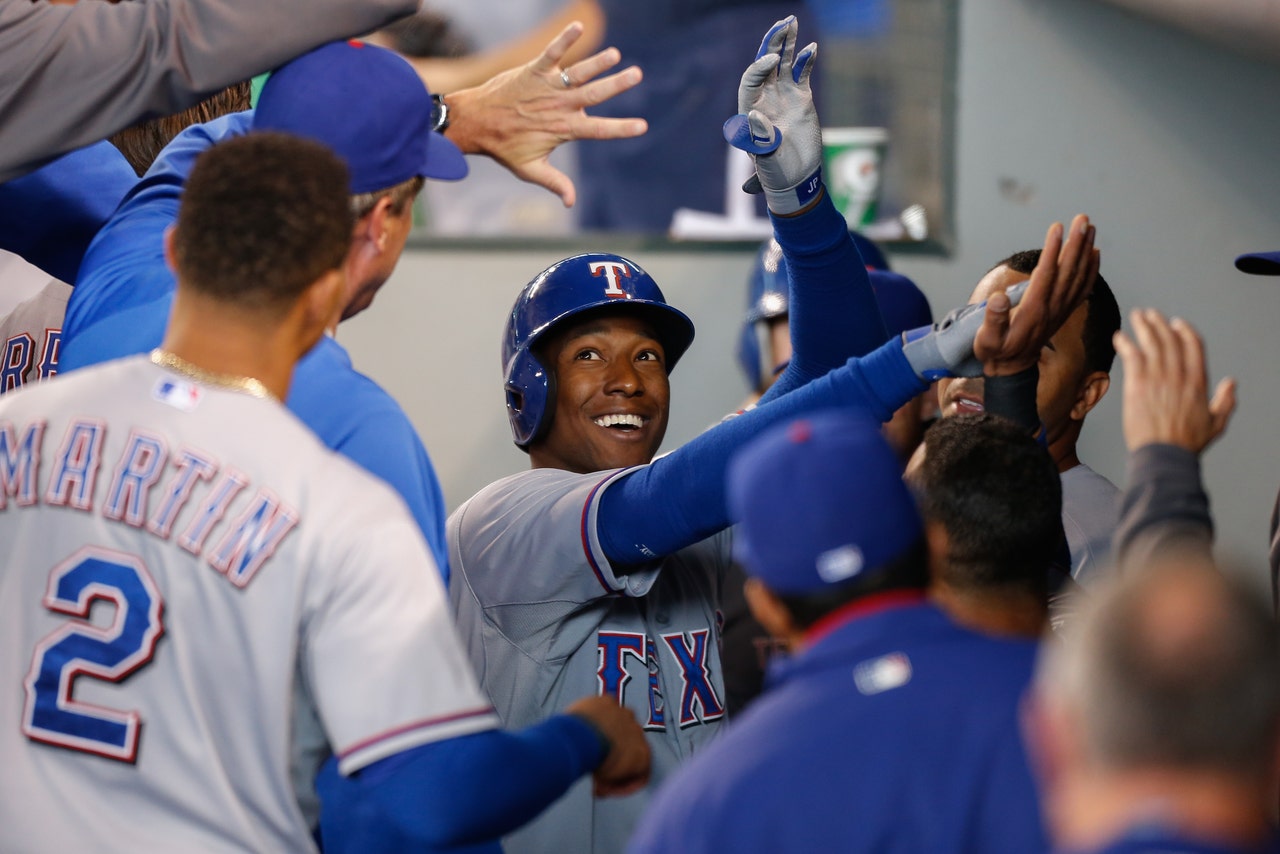 Jurickson Profar #13 of the Texas Rangers is congratulated by teammates after hitting a home run on May 26, 2013 in Seattle, Washington. (Photo by Otto Greule Jr/Getty Images)
Often when we look back at top prospects, we view their outcomes in the extremes: either they became bona fide stars or they were downright busts. The truth is, most prospects end up somewhere in the middle as perfectly solid players. Whether Profar achieved the sky-high ceiling ascribed to him or not, that he became a good big leaguer at all is still an unmitigated success. 
Eventually, Profar will sign somewhere, to much less fanfare than he once generated aplenty. Whichever team signs him may not be getting the best player on the field, but they'll still be getting a damn good one. 
Jordan Shusterman is half of @CespedesBBQ and a baseball writer for FOX Sports. He has covered baseball for his entire adult life, most notably for MLB.com, DAZN and The Ringer. He's a Mariners fan living in the Eastern Time Zone, which means he loves a good 10 p.m. first pitch. You can follow him on Twitter @j_shusterman_.
Top stories from FOX Sports:
FOLLOW
Follow your favorites to personalize your FOX Sports experience
---
Get more from Major League Baseball Follow your favorites to get information about games, news and more
---
---